Tikka Paste
Ingredients
| | |
| --- | --- |
| For approx 40 ml | Continued... |
| 3 tspn coriander seeds | ½ tspn hot chilli powder |
| 1 tspn cumin seeds | ½ tspn turmeric |
| 1 tspn garlic powder | 1 tspn mint |
| 1 tspn paprika | ¼ tspn salt |
| 1 tspn ground ginger | 1 tspn lemon juice |
| ½ tspn garam masala | 1 tbspn wine vinegar |
Preparation
Grind the coriander and cumin seeds to a powder in a pestle and mortar.
Mix together all the ingredients.
Add a little water as necessary to make a paste with a consistency slightly thinner than tomato ketchup.
Cooking
Heat a pan or wok and add 1 tbspn of oil.
Add the paste and cook for a few minutes until the oil is absorbed.
(If the paste is too dry just add a little more water.)
Continue to cook and the paste will be ready when small patches of oil reappear on the surface.
Allow to cool and reserve, or if not using immediately, spoon into a small jar.
If storing, add a little oil to cover the surface of the paste and keep in the fridge (it should last for 3-4 weeks).
The preparation stage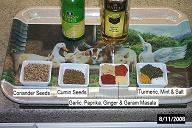 Enlarge image