Kerala Style Mushrooms
Ingredients
| | |
| --- | --- |
| For 1 | Continued... |
| 2 tspn oil | ½ inch of cinnamon stick |
| 125 gm mushrooms | 1 clove |
| 1 tomato | 1 tspn coriander seeds |
| ½ tspn garlic | ¼ tspn turmeric |
| ½ tspn ginger | ¼ tspn salt |
| | 4 tbspn coconut milk |
Preparation
Chop the mushrooms into reasonably large pieces.
Crush the garlic.
Grate the ginger.
Make a paste with the garlic, ginger and a little oil using a pestle and mortar.
Chop the tomato.
Grind the coriander seeds to a powder in a pestle and mortar.
Cooking
Heat the oil on a low to medium heat in a heavy pan or wok.
Add the cinnamon and clove and stir for 1 min.
Add the garlic and ginger paste and stir for a maximum 30 seconds.
Add the onions and fry, stirring, for 3 min.
Add the tomato, chilli powder, turmeric, powdered coriander and salt and stir.
Add the mushrooms and stir.
Add about 100 ml of water and simmer for 10 min adding a little water as needed to produce the required consistency.
Turn the heat to low, stir in the coconut milk and heat through for 2 min.
Serving
Remove the cinnamon and clove.
Serve with rice and garnish with fresh coriander.
The preparation stage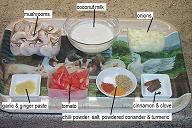 Enlarge image
The finished meal