Chicken Korma
Ingredients
| | |
| --- | --- |
| For 1 | Continued... |
| Marinade | Sauce |
| 1½ tspn Korma spice mix | 1 tbspn oil |
| 2 tspn lemon juice | 75 gm onion |
| 4 tbspn yogurt | 1 tbspn Korma spice mix |
| 1 chicken breast | 150 ml coconut milk |
| | 1 tspn cornflour |
| | 25 gm ground almonds |
| | ¼ tspn turmeric |
| | 1 tspn fresh coriander |
Preparation
Cube the chicken breast.
Mix together, in a small bowl, the yogurt and lemon juice and 1½ tspn of Korma spice mix.
Add the cubed chicken, mix well, and leave to marinade for 2 hours.
Add the coconut milk to another small bowl and gradually stir in the cornflour.
Finely chop the onion (very fine for a smoother sauce).
Chop the fresh coriander.
Cooking
Heat the oil in a wok and fry the onions over a low heat for 5 min.
Add 1 tbspn of Korma spice and mix well, and cook for 1 min.
Add the marinated chicken, shaking off any excess marinade, turn the heat to medium and cook for 3 min.
Turn the heat to low and gradually stir in the coconut milk.
Add the almonds, turmeric, salt (to taste) and 80 ml of water.
Bring to a boil and then simmer, stirring regularly, for 20 min adding a little water if the sauce gets too thick.
Serving
Serve with rice, adding the coriander as a garnish.
The preparation stage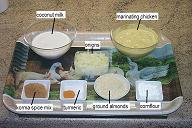 Enlarge image
The finished meal