Chicken Bhuna
Ingredients
For 1
1 chicken breast
125ml Masala Sauce
1 tbspn tomato purée
½ onion
1 tspn curry powder
½ tspn hot chilli powder
1 tspn green chilli
2 cloves garlic
1 tspn ginger
2 tbspn vegetable oil
2 tbspn coriander leaves
½ tspn Garam Masala
2 cardamom pods
1 tomato
1 green pepper
Preparation
Cube the chicken.
Chop the pepper into 1in squares.
Finely chop the onion.
Crush the garlic.
Grate the ginger.
Finely chop the green chilli.
De-seed the cardamom pods and lightly crush in a pestle and mortar.
Use 2 tspn of water to make a paste from curry powder, chilli powder and cardamom seeds.
Chop the tomato into 8 pieces.
Cooking
Heat a wok and add oil.
Fry the onion for 3 min.
Add garlic, ginger, green pepper and green chilli and stir fry over a medium heat for 2 min.
Add the curry/chilli/cardamom paste, stir, and fry for 30 sec.
Add the chicken and fry for about 2 min to seal on all sides.
Add the masala sauce and tomato purée and cook for 10 - 15 min to thicken the sauce, stirring often.
Add the garam masala and stir well.
Reduce the heat and add the tomatoes, stir and cover the pan.
Cook for 3 min without stirring.
Add the whole coriander leaves, stir briefly.
Serving
Serve with rice.
The preparation stage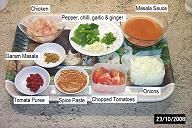 Enlarge image
The finished meal