Anari Chicken
Ingredients
| | |
| --- | --- |
| Pre-Cooked Chicken | For 1 |
| 1 chicken breast | 1 tspn oil |
| 1 tbspn oil | 2 tspn ground coriander |
| 1 tspn pomegranate molasses | ½ tspn garam masala |
| 2 tspn water | ¼ tspn hot chilli powder |
| ½ tspn ground coriander | ¼ tspn salt |
| ¼ tspn hot chilli powder | 1 tspn green chilli |
| ¼ tsp salt | 1 tspn pomegranate molasses |
| 150 ml masala sauce | 2 tbspn yogurt |
Preparation
In a small bowl mix 1 tspn of pomegranate molasses with 5 tspn of water.
Mix in the ground coriander, chilli powder, salt and 1 tbspn of oil.
Cube the chicken breast and marinate in the pomegranate and spice mixture for 2 hours.
In another small bowl add the yogurt and stir in 1 tspn of pomegranate molasses.
Finely chop the green chilli.
Cooking
Heat a wok and add 1 tbspn of masala sauce, add the chicken with the marinade and fry for 3 min or until the chicken is cooked, then set aside.
Heat the wok and add 1 tspn of oil.
Add 2 tbspn of masala sauce.
Bring to a simmer and add the ground coriander, garam masala, chilli powder and salt and stir fry for a few seconds.
Add the rest of the masala sauce, pre-cooked chicken, and the green chilli.
Stir well and simmer on a low heat for 5 min.
Turn heat very low and stir in the yogurt and pomegranate mixture.
Heat through.
Serving
Serve with rice.
The precooked chicken stage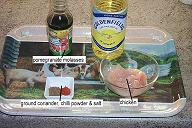 Enlarge image
Pomegranate Molasses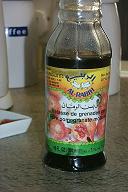 Enlarge image
The preparation stage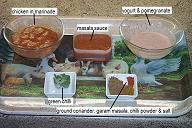 Enlarge image
The finished meal