Castle Pudding
Ingredients
| | |
| --- | --- |
| 1 tbspn jam (optional) | 2 tspn vanilla extract |
| 60 gm butter | 65 gm self raising flour |
| 60 gm caster sugar | 2 tbspn cocoa powder |
| 1 egg | |
Preparation
Preheat the oven to 180° C.
Beat the egg in a bowl.
Butter dariole moulds (can use ramekins).
If using jam, put it into the base of the darioles.
Soften the butter in a bowl and beat together with the sugar until light and fluffy.
Gradually beat in the egg.
Mix in the vanilla and cocoa powder.
Fold in the flour.
Spoon the mixture into the darioles, leaving space at the top to allow for rising.
Cooking
Bake in the oven for 20 min.
Serving
Serve with custard, vanilla or cornflour sauce.
The moulds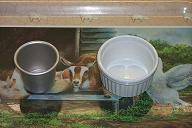 Enlarge image
The preparation stage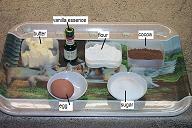 Enlarge image
The finished meal