Orange Bakewell Tart
Ingredients
| | |
| --- | --- |
| 7 ½ - 8 inch flan tin | Continued... |
| Pastry | Frangipane Filling |
| 112 gm plain flour | 3 eggs |
| Pinch of salt | 115 gm caster sugar |
| 50 gm butter | 115 gm butter |
| 1 orange | 50 gm ground almonds |
| | ½ tspn almond essence |
| 4 tbspn apricot jam | 1 orange |
| | Icing sugar for dredging |
Preparation
Preheat oven to 200° C (include an oven sheet).
Zest and juice one orange and set aside.
Sift the flour and salt into a large bowl.
Cut 50 gm of butter into smallish chunks.
Add the butter to the flour and rub the butter into the flour with your fingers until it beccomes like fine breadcrumbs.
Using a large spoon, mix in the zest of one orange.
Mix in just enough orange juice to hold the mixture together. This will likely need just over 1 Tbspn.
Make the mixture into a ball and flatten it slightly.
Wrap in cling film and refrigerate for 30 min.
Butter the flan tin.
Zest the second orange and keep separate.
Melt 115 gm of butter in a saucepan over a low heat.
Discard the white of one egg.
Whisk 2 whole eggs and one egg yolk with the sugar in a bowl until thick and pale.
Gently stir the melted butter, ground almonds, almond essence and orange zest of the second orange into the mixture.
Roll out the pastry between 2 sheets of cling film and line the flan tin.
Cooking
Spoon the apricot jam into the flan tin and evenly spread it out over the pastry bottom.
Pour the mixture into the pastry case and bake in the oven (on the baking sheet) for 30 min, until the filling is just set and browned.
Serving
Allow to cool and dredge with some icing sugar.
Notes
The preparation stage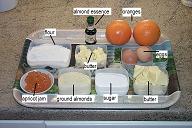 Enlarge image
The finished tart